A brief introduction to Alpha Prison Ministries
Bringing hope in seemingly hopeless situations
Alpha Prison Ministries in Grand Rapids, Michigan serves prison inmates with Bible studies, spiritual help, and mentoring. As prisoners are released from prison and need to integrate successfully back into society after prison, rather than return quickly back to prison, Alpha Prison Ministries helps with housing, job placement, clothing, and further mentoring aimed at giving ex-prisoners the skills and resources to become productive members of society and find the higher purpose that God would have them accomplish in life after prison. Our prison ministry has been very successful helping ex-prisoners break the cycle of returning to prison after being released from prison. With the expense of keeping prisoners locked up, and the waste of human potential, a prison ministry that transforms prisoners to productive members of society, makes an important contribution to the prison problem plaguing our culture. That is the heart of prison ministry for Alpha Prison Ministries in Grand Rapids, Michigan.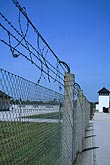 An exciting reality for Alpha Prison Ministries is that just because someone is living behind bars, does not mean they are not free. It is not uncommon to find those in prison who are more free than many who live outside in what we call society. You can see it in their eyes; there is light, life, and the freedom that only God himself can produce.
Rather than being hopeless prison situations, God has demonstrated that his power is made perfect in weakness. The pages of this web site are filled with accounts of people's imperfect lives being transformed, and real stories of the Lord turning failure into success.
Alpha Prison Ministries reaches out to prisoners not only while they are in prison, but afterwards as well, when they are trying to integrate back into society. We seek to disciple them and bring about the full transformation of character that only true faith in Jesus Christ can provide. We desire to assist them in fulfilling God's calling for their lives, whether in prison or out of prison.
Prison ministries improve our society
In Michigan, it costs taxpayers well over $30,000 per year, per prisoner. Nationally, there are over two million people in prison. Aside from the waste of human potential, these numbers are a problem for all of us. It would be easy to get discouraged, but our God is bigger than the problem. Every life we impact matters.
The transition back into society for ex-offenders is challenging to say the least. The percentage that end up back in prison, and the fact that it usually only takes a few months, is sad. Alpha Prison Ministries has been successful in helping men break this cycle.
This success happens because we have people who will give them a chance and hire them. It happens because we receive generous support from people like you. It happens because we serve a God who changes hearts and transforms the one who committed a crime into a completely different person, a person who becomes an asset to our society.
Take time though to reflect briefly on the number of people in prison. Two million! That is the population of a very large city. Why so many? The mistakes that get them there are not hard to make. It could be one bad choice, or a single choice that easily takes them down a path they never intended to go. It could be Almost Like a Movie.
In any case, if you are not already involved in our ministry, your life and someone else's will be enriched if you can join us in some way.
Below is a brief, 4½ minute video introduction to Alpha Prison Ministries:
Feel free to visit other pages on this web site to learn more about Alpha Prison Ministries. Review the testimonies of what the prisoners themselves have to say about how their lives have changed. If you are already supporting us, this web site is intended to provide more insight into the difference you are making. Thank you for visiting.
To see a situation that once seemed hopeless become a blessing in disguise, truly makes our ministry at Alpha Prison Ministries worthwhile. Our supporters share in that success because without financial support, we could not offer the resources to help prisoners succeed from returning to prison. Without ministry donations of goods and services, ex-prisoners may not have the means to find work or transportation. Without employers who will hire ex-prisoners, they would have a far greater chance of returning to prison. Without prison ministry mentors and volunteers, prisoners may not develop the skills to succeed or even realize their worth in the sight of God. Without our Alpha Prison Ministries board, the smooth flow of our operations would not be well organized and our ministry to prisoners would suffer. Without the prayer support of many faithful believers, this ministry to those in prison would be far less effective.
© Alpha Prison Ministries
Alpha Prison Ministries • 616-538-4090 • Grand Rapids, Michigan • info@alphapm.org

Top of page